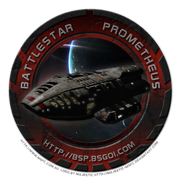 Prometheus  (2004)
Prometheus is a cargo vessel that appeared in the episode "Black Market". The ship has an "open port" policy similar to Cloud 9 and became the headquarters for the fleet's black market operations. The black market was allowed, unofficially, to continue operations with the stipulations that there are no killings, that they don't hold back on essential medicines and their child prostitution ring is ended. The ship's name comes from Greek mythology, Prometheus the Titan who stole fire from the gods and gave it to humans.
Ad blocker interference detected!
Wikia is a free-to-use site that makes money from advertising. We have a modified experience for viewers using ad blockers

Wikia is not accessible if you've made further modifications. Remove the custom ad blocker rule(s) and the page will load as expected.